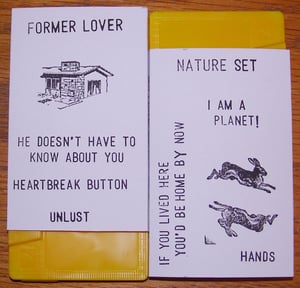 £

2.50
Split maxi-cassingle featuring Former Lover and Nature Set. An edition of 100 yellow copies in a hand constructed and stamped card sleeve.
Former Lover is the first new music from Dorian Cox since the enforced end of the Long Blondes. Former Lover say; "Dorian saw Myrtle in a pub and knew by her fringe that she was the right girl to front his new pop group. Daniel Dylan Wray was asked to play bass due to the fact he'd not spent anytime in a terrible local band. The three then hid away from the world with records by Young Marble Giants and Margot Guryan for company to create quiet music to soundtrack insomnia and 3 am breakdowns." Daniel plays bass, Myrtle sings and Dorian plays guitar and organ.
Expect supper club vox, cheap drum machine, CIU organ and eruptions of molten lava guitar.
Nature Set follow up their excellently received 7" released on Elefant earlier in the year with two urgent jams and the more reflective "Hands," all recorded in Sheffield by Alan Smyth (Pulp, Arctic Monkeys.) Reenie plays bass and sings, Daf plays guitar and sings, Claire plays synth and sings and Marie plays drums and sings.
Expect harmony vocals, rough guitars, shouts and calls and sneaky analogue synth.
Tracklisting:
Former Lover
He Doesn't Have to Know About You
Unlust
Heartbreak Button
Nature Set
If You Lived Here You'd Be Home By Now
Hands
I Am A Planet